Media and Accomplishments
Freeze dried and silk rose petals in The Five-Year Engagement
The movie The Five-Year Engagement released on April 27th, 2012 starring Jason Segel, Emily Blunt, and Chris Pratt, used both our freeze dried and silk rose petals. When you see an aisle made of lavender colored rose petals, those are our freeze dried. The petals used for tossing are our silk.
A romantic setting in the movie Arthur
The new Arthur movie released on April 8th, 2011 starring Russell Brand, Helen Mirren, Greta Gerwig, Jennifer Garner, and Nick Nolte, used our red and burgundy silk rose petals to create a very romantic scene. We will not give too many details yet in case you haven't seen it, but when you see a large circle of petals, those are ours!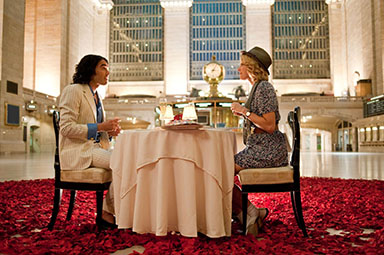 Photo: allmoviephoto.com
Silk rose petals in the Sucker Punch movie
The movie Sucker Punch released on March 25th, 2011 starring Emily Browning, Vanessa Hudgens, and Abbie Cornish, used our silk rose petals in multiple scenes, including in the ending credits.
A trail of rose petals in The Imaginarium of Doctor Parnassus
Our freeze dried rose petals were used in a scene featuring Johnny Depp in the movie The Imaginarium of Doctor Parnassus which premiered on Christmas Day, 2009. This is the film that Heath Ledger was in the middle of filming when he tragically died on January 22, 2008. It was actually on that very day that we had shipped a few small cases of our freeze dried rose petals to Vancouver to test in their set design. After Heath Ledger's death, the movie was on hold for a short time, but the movie was soon back on track and in February 2008, we shipped a large quantity of Red, Pink, and Coral freeze dried rose petals to the Vancouver set.
In the movie, the rose petals form a long pathway which Johnny Depp walks along as he leads a woman through the "Imaginarium". The petals can be seen in several different shots.
BRIDES Magazine Nov/Dec 2007
Our freeze dried rose petals earned the distinction as one of the best products for 2007. Considered the Trendiest Tosses, we are listed among the top 101 ideas, products, and designs in the BRIDES BEST 2007 article.
A MIDSUMMER NIGHT'S DREAM
Our Raspberry silk rose petals were used for an Off-Broadway production at Classic Stage Company in NYC.
James Patrick Nelson, Chad Lindsey, Bebe Neuwirth, Rob Yang and Erin Hill in A MIDSUMMER NIGHT'S DREAM.
Photo: Joan Marcus, 2012.
Other notable uses of our products:
�Smallville� Season 10, silk rose petals raining down from the top of a building during a proposal
HBO's "True Blood" Season 3
Dixie Chicks shot petals out of cannons during concert tour
�One Tree Hill� freeze dried and silk petals, 2009
"Wedding Day"Mark Burnett show on TNT
Mark Anthony used pink and red silk petals during concert at Madison Square Garden on Valentine's Day, 2009
�My Fair Wedding� WeTV wedding show, 2009-10
Oscars organza bags, 2010
�Gossip Girl� on the CW, 2010
�The L Word� Season 3 on Showtime
Golden Globes 2010 Yellow silk and freeze dried
"So You Think You Can Dance" 2008
Neiman Marcus store displays
Givinchy Perfume Very Irresistible launch
Green Day's American Idiot on Broadway
�Medium� on CBS, 2010
�Undercovers� on NBC, 2010
Universal Orlando The Barney show uses our Fall Leaves
"Elixir" A Disney/ABC Family TV movie from 2012